You've got some Facebook parties, but they aren't giving you the results you want. I know the drill. You're super excited because OMG! Someone wants to do a party! You get it all set up and ready to roll. The party starts and you get some engagement, but it ends with crickets. Or maybe you have people hanging out for the entire party and then little to no sales. Or no one jumped up and down and said they want to host a party next. Friend, I've been there, done that. Got the t-shirt.
When I first started Facebook parties over 3 years ago, I had no real system. It was a fairly new thing within my direct sales company. Some people were doing Facebook parties and having crazy awesome success, but the rest of us were just standing around scratching our heads. I KNEW there had to be a way to work my business on Facebook AND not be begging for orders from every party.
Want a proven plan for growing your business without feeling like you're chasing your tail? The Direct Sellers Business Blueprint explains the 4 key areas you must master to build a simplified, systematic direct sales business. It will even tell you which area to tackle first, so you can stop feeling overwhelmed by what to do next. It's completely FREE for a limited time.
Throwing Mud at the Wall
So I just kept throwing mud at the wall, until I figured out what stuck. I'm not gonna lie. It took some serious grit to get through the parties that were less than amazing and pick apart what was working and what wasn't. I tested posting times, types of posts, themes, length of the party…literally ALL THE THINGS. And even though the virtual world is constantly evolving, a few things have stayed the same. Above all, people want to have fun, learn something new, and get to know the real you. So how do you go from Facebook parties that are barely scraping by to a full calendar of rockin' parties? Don't worry. I'm going to tell you.
Facebook Parties Should Be Fun!
First of all, have FUN! It's a party after all! The word 'party' conjures up all sorts of images in my mind from colorful balloons, to hanging with friends, to delicious food and drinks. All the FUN things. Y'all, I've attended some Facebook parties that were like watching paint dry. Seriously. Every post in your party should not be 'buy my stuff', 'host a party', or 'join my team'. BORING!
WAYS TO HAVE FUN
Play some games. Post some memes. Use gifs and stickers when you talk to people. (Yes, those qualify as a conversation.) Even if you don't FEEL like this guy right here, make sure your guests think you do.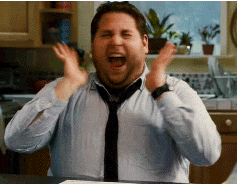 Guests also enjoy learning new things. I can't tell you how many times I've gotten an "Oh my gosh! I'm totally gonna try that!" or "I had no IDEA you could do that!" as a comment. Include some tips and tricks for your product or some random hacks that relate to it that most people don't know. Do you sell anything that involves color? Then share some tips on pairing colors or patterns. If you sell stuff for kids, give some tips on products that are appropriate for different age groups. Focus on "edutainment," and I can almost guarantee your guests will come back looking for more.
BUILD RELATIONSHIPS DURING THE PARTY
Remember way back when Moses was a child and Facebook was new? Remember why you loved it? Because you could connect with people you don't normally see, laugh with your neighbor at funny pictures of their kids, and do it all in your pajamas from the privacy of your own home. This can be a tricky part of a virtual business. We sit behind a screen, and guests don't really get to "see" us. It's a good thing, too, since most days I work in old t-shirts and jeans with no make-up. #momlife To help foster relationships with guests that I meet during my Facebook parties, I have a personal rule that every comment gets a reply from me. I ask lots of questions and then LISTEN. Remember, God gave you two ears and one mouth for a reason! When someone replies to a question, engage them in conversation, just like you would if they were sitting in someone's living room at a home party. If they comment with their favorite product, ask them what they love about it or what fun ways they've used it. If you sell food products, offer them additional recipes that they can make with a product. If you sell jewelry, ask them if they've seen that other piece in the collection.
GET PERSONAL WITH STORIES
Another great way to build relationships is to share personal stories. To do this, you need to be USING your products. Like ALL of them. Try them on. Use them. Test them out. What do you love? Anything you DON'T love? Any funny mistakes you've made? How have you used your product to solve a problem in your home? Is there a product that your kiddos get REALLY excited about? Normally, guests don't care as much about features like size, shape, or material. They want to know how that product is going to solve a problem for them. By sharing your personal stories, you can help them solve problems from gift giving to clothes that actually fit to getting dinner on the table in 30 minutes or less. When we chat with people and actually LISTEN, we can learn about the specific problems that they're facing and offer them value in their purchase. This goes a long way when building a lasting relationship with your customers. You aren't just in it for a one-and-done sale. You're in it to provide them with exceptional service and position yourself as their go-to gal or guy.
SHOW YOUR FACE
This one might make you stop reading, but stay with me here. With a virtual business, guests can feel disconnected from you as the consultant if you don't show your face and engage with them throughout the Facebook party. My favorite way for my guests to get to know me is with video. (Don't leave yet. Keep reading.) This can be via Facebook Live or a pre-recorded from your phone. You don't need fancy equipment or an amazing backdrop because they want to see YOU and get to know YOU. So let them see the real you. I mean, make sure you have on clean clothes and that pile of laundry from 3 days ago isn't sitting in the background. But you don't need professional lighting or glamorous make up (unless you're selling make up) to be authentic.
CREATE A FUN WAY TO BE VISIBLE
In my Facebook parties, I do what I call Magic Word videos. This is a fun and easy way to get guests to see my face, hear my voice, and engage with me outside of the actual event. I have a bunch of pre-recorded videos that show how to use specific products or offer quick tips. At the end of the video, I give them a Magic Word. I encourage them to private message me the word for extra entries into the party prize drawing. They LOVE these videos!
Not only are they seeing my face, hearing how excited I am about whatever I'm using, and learning something new, but guess what else happens! Most of the time when someone messages me, it turns into a full blown conversation. They can't wait to tell me about a product they have and love or ask me a question about something they're thinking about ordering. Because they've seen my face and connected with me outside of the party, I've taken a huge leap into building a long term relationship with them.
AVOID PRODUCT OVERWHELM
I don't know about you, but sometimes I feel like a 4-year-old standing in the middle of the candy aisle trying to pick out my favorite candy. Too many choices. While none of them are bad, I get paralyzed by trying to make a decision with way too many options in front of me. Your guests can feel the same way when EVERY post during a party is about products. So don't go crazy posting about products with no break in between. Mix up your content with some videos, games, and engagement posts that will give them a break from the 'buy my stuff' posts. Also, make sure your products have a flow and that the party works to tell a story. Shotgun posting of random products with no connection can leave guests confused and frustrated. Trust me. I've seen it. It's painful to watch.
HAVE A THEME
This is by far my favorite tip! Every party should have an overarching theme that you stick to. A theme goes a long way in tying products together and making the flow of the party makes sense to the guests. You can use just about any theme for any product. When doing a one hour party one big theme will do well. If you run your parties over multiple days, like me, then you might want a theme for the party and sub-themes for each day. Here are some ideas to get your creative juices flowing:
Pick an upcoming holiday
Opt for a popular icon 
Choose a popular party food like wine or chocolate!
Go with a current season 
You'll also want to create images that fit your theme to use as banners, for posting throughout the party, and for your hosts to use to invite friends and family. When your images have a similar look and feel, your guests and hosts will enjoy your party even more! Programs like Canva or PicMonkey are great for creating these.
NOW YOU'RE READY TO ROCK YOUR NEXT FACEBOOK PARTY!
Check out our shop for for our current themed Facebook party graphics packs. Each theme comes with 20+ images available for immediate download so you can use them to quickly and easily put together an entire party. You'll also get a step by step how-to guide for piecing it all together. Is there a fun theme that you would love to see us create? Reach out and let us know! We would love to hear from you. Also, comment and let us know when you have implemented any of these ideas in your current parties. We want to celebrate your success with you. Party on!
Want more selling tips? You might also like:
Want a proven plan for growing your business without feeling like you're chasing your tail? The Direct Sellers Business Blueprint explains the 4 key areas you must master to build a simplified, systematic direct sales business. It will even tell you which area to tackle first, so you can stop feeling overwhelmed by what to do next. It's completely FREE for a limited time.